Annual Research Day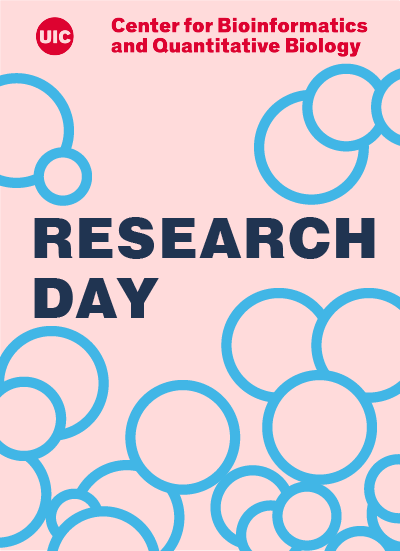 The UIC Center for Bioinformatics and Quantitative Biology (CBQB) is launching the first Research Day on Friday, November 19, 2021 from 9 am to 4:30 pm in the Thompson Room ABC in Student Center West. The annual UIC CBQB Research Day will feature a keynote presentation, along with oral and poster presentations from graduate and undergraduate students.
The aim of this event is to raise the awareness of exciting research work where bioinformatics, computational biology, and quantitative biology can play important roles, as well as research work in developing computational tools and algorithms for understanding quantitatively biological processes. We envision work presented will be across different size and time scales of molecules, networks, cells, tissue, and ecological communities.
The CBQB Research Day will provide the opportunity to students to present their ongoing research projects to faculty members and other students, and to enhance the interactions among research labs on campus. This is a great opportunity to learn more about the field and the range of research opportunities related to bioinformatics and quantitative biology at UIC. All undergraduate and graduate students, as well as postdoctoral fellows/research associates, at UIC who are engaged in bioinformatics and quantitative biology research are encouraged to submit an abstract and participate in the CBQB Research Day.
There will be monetary awards for the best poster and best talk, sponsored by the Office of the Vice Chancellor for Research (OVCR).
Friday, 9:00 am–4:30 pm
Thompson Room ABC Student Center West
There will be a COVID-19 Monitor (Tina Moore).
Event organizers ask that attendees be vaccinated against COVID-19 or have a negative COVID-19 test no more than 72 hours prior to attending.
The UIC Daily Pass will be utilized to determine Inclusivity of individuals in the event. The "daily pass' must be in a "green" status for the Healthcheck badge and the saliva testing badge to be able to join
the event.
All attendees will be tracked to the greatest extent possible. For contract tracing purposes, event attendees must include name, UIN (if applicable), email, and phone numbers.
All individuals must remain masked when not eating or drinking.
Will use an approved room following the University guidelines regarding layout and capacity.
All refreshments will be individually packaged or plated.
Hand sanitizer will be available.